Korpen Persiflage
---
Persiflagen ser och hör
också vad som inte sagts och gjorts...
---

Persiflage [-flɑ:ʹʃ] (fr., av persifler 'förhåna', 'driva med', av per och siffler 'vissla'), drift, gyckel.

De kvickt ironiska angrepp för vilka Strindberg i "Det nya riket" utsatte en rad samhällsföreteelser som han ogillade är typen för persiflage som litterärt vapen.


---
Det omöjliga är ofta det
som de ovilliga inte vill göra möjligt...
---
Min äldsta och bästa förebild...
Henrik Bernhard Palmær (1801-1854) var faktiskt före August Strindberg (1849-1912) med persiflager. Tror inte ens att August använde ordet (?), vilket Palmær bevisligen gjorde.

Jag stötte första gången på det ovanliga ordet i hans bok
"Eldbränder och Gnistor.
Humoresker Samlade och Utgifna
af Arvid Ahnfelt.
Med Lefnadsteckning och Porträtt.
Alb. Bonniers Boktryckeri 1876"

Redan i första brevet till "Min goda Tant" fanns ordet -

"De bästa kryddorna, ironiens salt och persiflagens peppar, saknas aldrig, och finnas alltid tillblandade i riktigt förhållande."

Det har gått över 160 år sedan Palmær lade ner sin penna för gott. Men hans persiflager är förbluffande tidlösa både till form och innehåll:

Somliga människor talar i sömnen
till och med när de sover.

Bror Pers ved är av tre slag:
den sura, den surare och den suraste…

I Linköping gör bibliotekarien ingenting
och amanuensen hjälper honom med det…

Kung Oskar sitter på Stockholms slott
och nickar och nickar och nickar;
kring honom står hans försupna folk
och hickar och hickar och hickar.

Riv dig icke i huvudet - du kan få stickor i
fingrarna.

Sarkastiska anmärkningar äro de säkraste medlet
att roa för ögonblicket och förvärva ovänner för livstiden.

På en sann skämtare skrattar
hela ansiktet med undantag av munnen.

Detta måtte vara ganska förnuftigt;
ty jag ser att elfva prester reserverat sig.

Varje kristen har sitt kors att bära,
men biskopskorset lär vara det jämförelsevis lättaste.

Man borde utrusta soldaten med en påk så att han kan försvara sig om någon försöker stjäla hans gevär.

Riksdagsmännen äro tillsatta att avhjälpa statens många lyten, men äro själva bekajade med ännu flera. Man tycker sig se ett lasarett, varest samtliga patienterna äro medicine doktorer.

Förslag till ovanskrift vid riksdagshusets entré:
- Här fattas visa beslut.


På nätet finns samlade ett 50-tal av Palmærs persiflager



---
Det händerna applåderar är ofta
mer talande än vad munnen säger...
---
En till som kunde...
August Strindberg (1849-1912)
Det är inte våra dygder
utan våra fel som gör oss till människor

Barn är det roligaste som finns
men de äro rysligt dyra.

Livet är kort men det kan vara långt
så länge det pågår.

Är man skyldig visa aktning för lagarne?
Ja, när de bli aktning värda.

Endast ett land kan vara bäst.
Vilket icke hindrar att de alla kunna vara lika bra.

När man är tjugo år gammal, har man löst världsgåtan;
vid trettio börjar man att tänka över den
och vid fyrtioårsåldern finner man den olöslig.

Man ska inte prata om sin lycka,
olyckan kan stå och lyssna.

Livet är ingenting för amatörer.

Genom att försöka det "omöjliga"
når man högsta graden av det möjliga.

Det luktar rutten skit af Sverige ända hit ner (Schweiz) ibland,
men det skall väl ge sig!

Akta dej din jävel, vi ses i min nästa roman.

Regnet piskar ner sotet på gula band och blå och gröna. Plymagerna lägga sig som våta höns på hattarne; uniformsguldet blir grönt, ty det är bara 8 karat; sablarne rosta; havannacigarrerna släckas; trafikchefen springer över barriären för att stoppa, men fastnar i koltendern. Tåget rusar fram, fram och överröstar kammarherrarnes förbannelser.
Men ute på åkern står bonden med mössan i hand och välsignar himmelen som gav honom ett välsignat regn.
---
Visst är det praktiskt att sanningen
alltid finns där man söker den...
---
De Petterssonska Persiflagerna
Jag har i många år roat mig med att vrida och vända på bokstäver och ord till korta humoresker, så korta som möjligt, dels för att det är en skön konstform och dels för att begåvningen inte räckt till mer än enstaka rader.

Sedan 2004 har persiflagerna samlats på ett organiserat sätt och resulterade 2006 i boken "Petterssons Persiflager". En andra och tredje version är under arbete...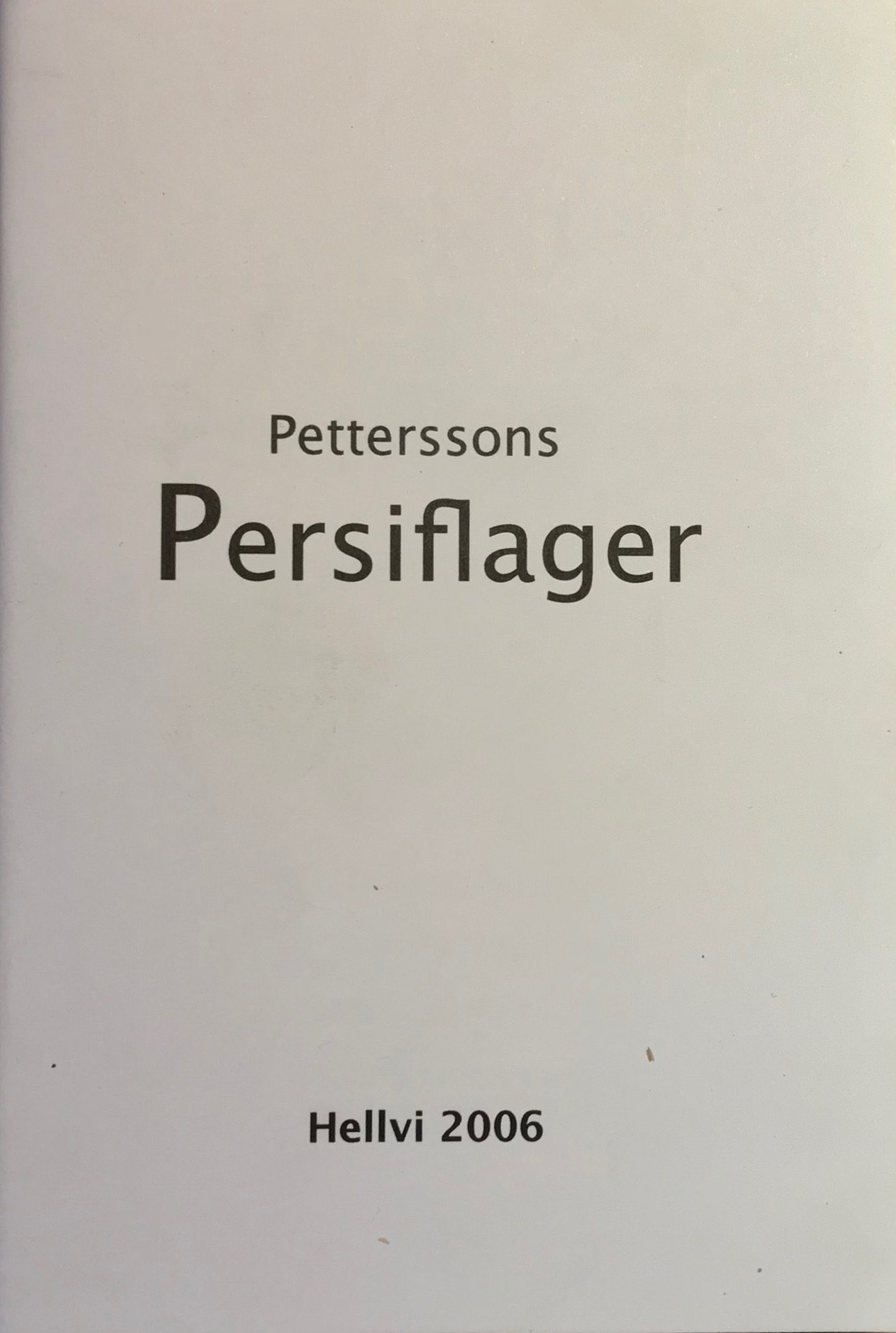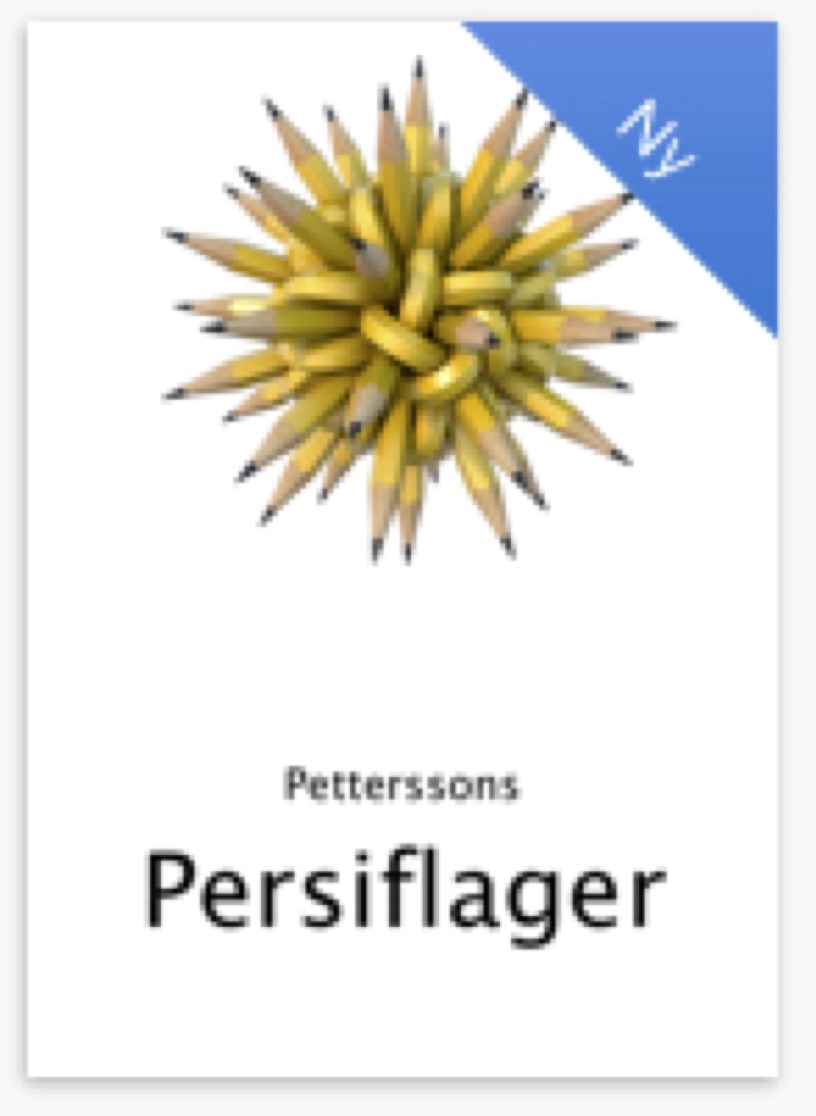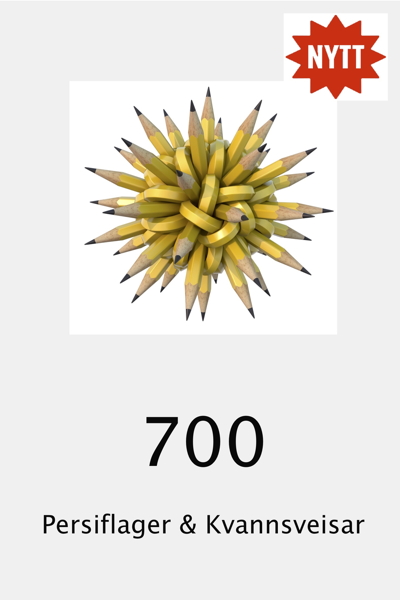 Persiflagerna förekom under några månader i lokalpressen, under signaturen PsoniHvi, tills de inte längre befanns värda att publiceras. Något hundratal har också varit publicerade i DN.
På nätet finns nu några hundra i ett urval. Målet är att tangera TecknarAnders 1001 dagsedlar.



Pettersson Persiflager



---
Upplysning är väl nuförtiden
mest en fråga om lyktstolpar...
---
En Kanadensisk domän som persiflerar på engelska:

PERSIFLAGE
Humour with all the freshness of an airline cookie
Project Persiflage
Political Satire at LKYSPP


---
Många har inte vad de behöver
för att köpa sånt de inte behöver...
---
Kurt Vonnegut

Den amerikanske författaren Kurt Vonnegut fyller sina böcker också med persiflager och har upptäckt förekomsten av sk Granfalloon: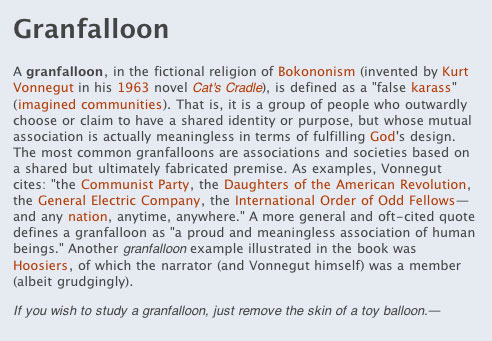 ---
Först lär man sitt barn att prata och gå,
sedan att tiga och sitta still...
---
Bättre läsning:
Jonathan Swift (1667-1745):
Sagan om ett badkar (1704)
Gullivers ressor (1726)
Ett anspråklöst förslag (1729)

Olof von Dalin (1708-63):
Sagan om Hästen (1740)

Olof Kexél (1748-96):
Kapitain Puff eller Storprataren (1789)

Henrik Bernhard Palmær (1801-54):
Beska Droppar (1847-)
Eldbränder och Gnistor (1876)

August Strindberg (1849-1912):
Röda Rummet (1879)
Det nya riket (1882)
Tal till svenska nationen (1910-12)

Engström Albert (1869-1940):
Kolingen, m.m. m.m. m.m.

Oskar "OA" Andersson 1877-1906
Mannen som gör vad som faller honom in (1907/13/25)
Karikatyrer (1914/21/25)
En resa jorden runt och andra teckningar (1955)

Karl Gerhard (1891-1964)
Flera kupletter finns på Youtube

Wilhelm Moberg (1898-1973):
Att övervaka överheten (1953)
I egen sak (1984)
Otrons artiklar(1973)

Erik "Eld" Lundegård (1900-1982)
Elds memoarer (1978)
Elds bästa (1982)

Olle "Cello" Carle (1909-1988)
En hög repriser till högre priser (1963)
Bland töntar och troll (1970)

Thorvald Gahlin (1910-2006)
Årsböcker och samlingsvolymer (1932-)

Lennart "Red Top" Nyblom (1915-1994)
Red Tops bästa
Tre män i en likadan båt
Svenska läseboken
Red Tops toppar

Torsten Ehrenmark (1919-1985)
Mängder med Årets Ehremark

Poul Strøyer (1923-1996)
Ströyers Dagbok (årligen 1954-1989)
Årets Ströyer (årligen 1990-1996)

Henrik Tikkanen (1924-1984)
Ansikten och Åsikter 1-3

Stig "Gits" Olsson (1925-1985)
De log med stövlarna på
Lite bakom flötet

Tage Danielsson (1928-1985)
Bok
Sagor för barn över 18 år
Postilla
Samlade dikter 1967–1967
Ny svensk gudalära

Anders Andersö (1930-)
1001 dagsedlar
Mängder med böcker

Olof Buchard (1933-)
Estradör

Sture Hegerfors (1938-)
PS i GöteborgsPosten sedan 1972
Mängder med böcker

Anderz Harning (1938-1992)
PS i GöteborgsPosten sedan 1972
Mängder med böcker

Christer Temptander (1943-)
Mängder med böcker

Kaianders Sempler (1946-)
Seriestrippar i bla Ny Teknik
Kärnkraft för nybörjare
Resan till Kristallpalatset
Om framtiden kommer

Kent Wisti (1971-)
Teckningar i DN mfl tidningar

Grönköping Veckoblad (1902-)

Thomas Nast (1840-1902)
Satirical cartoons

Jeff MacNelly (1947-2000)
Editorial cartoons
Shoe


---
När havet av mänskliga kunskaper
- vidgas -
också okunskapens stränder...
---

Här en utförligare och historisk redogörelse för ordet på engelska:


Persiflage
The French term persiflage might have been restricted to a footnote in the history of fads, had it not been commented upon by lexicographers and become an ideological issue in the polemics of the closing years of the 18th century. As early as 1755, abbé Prévost included the term in his Manuel lexique (Lexical Manual) where he defined it as "any badinage", whether in ideas or in expressions, that leaves some doubt or uncertainty about their true meaning.

The Académie Francaise admitted persiflage into its dictionary in 1762: "Persiflage (mockery), persifler (to mock), and persifleur (mocker) are modern terms that the depravity of taste and of morals has made only too fashionable", The Dictionnaire de Trévoux (Dictionary of Trévoux) followed suit in 1771.

Then came abbé Féraud, who presents persifler and its cognates as "new and very fashinable words" that "express the action of making a fool of someone by making them say naive things".

Féraud then quotes L'Anuée littéraire: "The character of the persifleur is a variation of that of the mocker and of the mean-spirited and has elements of both. It is quite difficult to define the quality".

Persiflage appears to be based om the art of subjecting people to ridicule without their knowledge". Whether as lighthearted banter or cruel ridicule, persiflage challenges both logic and morality. Ir affects the meaning of discourse and the sincerity of social relations. A modern development. it upset traditional principles, either by its aspect of a superficial delight or by its subversive quality.

According to the research of W. Krauss amd Élisabeth bourguiba, the first occurrences of the word are to be found in the writings of the abbé Prévost in 1735 and then in those of Claude Crébillon, Moncrif, Charles Pinot Duclos, and Jacques de La Morliére in the 1740s.

From the start, it was sometimes claimed that derived from sifter (to whistle or hiss) - the verb persiffler is sometimes spelled with two fs - and Bourguinat mentions the character Persiflés , who appears in several parodic plays of the time. In that case , persifler would mean to express oneself like a bird, in particular a parrot ör like a character in the fairground theatre, speaking wittily and refusing to take anything seriously.

Among novelists and moralists, persiflage was characterized as worldly chatter, as a preciosity that delights in wordplay, is expressed in jargon and then is used to ridicule those who have not mastered the code. The frivolity of thefop gives way to the malice of the roué or rake when persiflage becomes an assertion of a privilege., and an abuse of everyone who does not share the privilege. Madame de Genlis provides a definition of persiflage in her Dictionnaire critique et raisouné des etiquettes de la cour (1818: A Critical and Reasoned Dictionary of the Etiquettes of the Court).

lt is a perfidious mockery, the art of which consist in subjecting ro ridicule anyone who is its object, unbeknownst to him; it is, in short. the duping of someone by telling him things that are not true in a manner and tone that might make the listener take the words seriously. A persifleur is more or less quite similar to what the English call "a biter"; and he is how Joseph Addison defined such a person: .. "A biter is a man who thinks that you are a fool because you do not think that he is a liar".

Perstflage becomes a variation on the hoax. a game through which a group recognize its members or by which a writer such as Denis Diderot can explore his freedom as a creator in the space between illusion and realily. Alongside the fop, the rake or the spiteful, the persifleur forms a sterotype in French literature during the second half of the 18th century. He reduces discourse and social relations to a narcissistic pleasure, to the aesthetic of the moment.

For the sake of a fine witticism, he distorts an argument and destroys trust between people. In Duclos's Acajou el Zirphile (1744; Acajou and Zirphile), Acajou's witticisms are gathered together in abook entitled Le parfait persifleur ouvrage trés utile a la Cour et propre a rendre un jeune homme brilliant et insupportable (The Perfect Mockery, a Very Useful Book at the Court, Likely to Make a Young Man Billiant and Unbearable).

Källa:
Encyclopedia of the Enlightenment edited by Michel Delon


---
Smågossarnas bilar blir också större med åren...
---
Examples and Observations
"Persiflage is speech or writing with tongue in cheek. It combines irony, levity, and paradox, treating trifles as serious matters and serious matters as trifles."
(Willard R. Espy, The Garden of Eloquence: A Rhetorical Bestiary. Harper & Row, 1983)

Lord Chesterfield on Persiflage

"There is a certain jargon, which, in French, I should call un Persiflage d'Affaires, that a foreign Minister ought to be perfectly master of, and may be used very advantageously at great entertainments, in mixed companies, and in all occasions where he must speak, and should say nothing. Well turned and well spoken, it seems to mean something, though in truth it means nothing. It is a kind of political badinage, which prevents or removes a thousand difficulties, to which a foreign Minister is exposed in mixed conversations."
(Philip Dormer Stanhope, Lord Chesterfield, letter to his son, January 15, 1753)

Persiflage

Lord Chesterfield, in a letter of 1757, was the first to use this word in English. 'Upon these delicate occasions you must practice the ministerial shrugs and persiflage.' Hannah More in 1779 presented the feminine attitude toward 'the cold compound of irony, irreligion, selfishness, and sneer, which make up what the French . . . so well express by the word persiflage.' Carlyle, in Heroes and Hero-Worship (1840), said of Voltaire: 'They felt that, if persiflage be the great thing, there never was such a persifleur.'" (Joseph T. Shipley, The Origins of English Words: A Discursive Dictionary of Indo-European Roots. John Hopkins University Press, 1984)

Persiflage in Women in Love

"'I think you are very silly. I think you want to tell me you love me, and you go all this way round to do it.'

"'All right,' he said, looking up with sudden exasperation. 'Now go away then, and leave me alone. I don't want any more of your meretricious persiflage.'

"'Is it really persiflage?' she mocked, her face really relaxing into laughter. She interpreted it, that he had made a deep confession of love to her. But he was so absurd in his words, also."
(D.H. Lawrence, Women in Love, 1920)

The Persiflage of Bruce Willis

"I remember when they told Sylvia Plath, 'Hey, Syl, cheer up!' I remember when they told e. e. cummings, 'e, baby; use caps!' But did ol' e listen? No. Little n. Little o."
(Bruce Willis as David Addison in Moonlighting, 1985)

Hans Gruber: I thought I told all of you, I want radio silence until further . . .
John McClane: Ooooh, I'm very sorry, Hans. I didn't get that message. Maybe you should've put it on the bulletin board. Since I've waxed Tony and Marco and his friend here, I figured you and Karl and Franco might be a little lonely, so I wanted to give you a call.
Karl: How does he know so much about . . . Hans Gruber: That's very kind of you. I assume you are our mysterious party crasher. You are most troublesome, for a security guard.
John McClane: Eeeh! Sorry Hans, wrong guess. Would you like to go for Double Jeopardy where the scores can really change?
Hans Gruber: Who are you then?
John McClane: Just a fly in the ointment, Hans. The monkey in the wrench. The pain in the ass.
(Alan Rickman, Bruce Willis, and Alexander Godunov in Die Hard, 1988)

Barbershop Persiflage

"Buddy Lite--the barbershop barfly who's still lounging in his porkpie hat and violating the rule posted on a sign stating 'No jibber jabber'--pauses the persiflage to become sentimental.

"'You see, what John doesn't tell you is that all this is the sideshow,' he says. 'The real museum here is the people.'"
(Luke Jerod Kummer, "In Pennsylvania, a Haircut to Remember." The Washington Post, February 25, 2011)

Persiflage in Film

"Excessive stylistic devices offer possibilities for shifting the status of the film narrative when the plot becomes secondary to persiflage, parody, and/or self-reflexive commentary. Only by recognizing the possibility of such a shift can stylistic devices such as excessive use of voice-over or pompous referencing--which seem annoying because they hamper the progress of the story--be properly evaluated."
(Peter Verstraten, Film Narratology: Introduction to the Theory of Narrative. Trans. by Stefan Van Der Lecq. University of Toronto Press, 2009)



---
De som står och tittar på i uppförsbacken
brukar ändå hjälpa till med applåder på andra sidan...
---
©

Arga reaktioner och kritik tas tacksamt emot.
Övriga göre sig ej besvär...


---
På Internet hittar var och en
den sanning som man trivs bäst med...
---